Bleed Out: Within Temptation's Epic Musical Odyssey
With "Bleed Out," Within Temptation has ventured deeper into the enigmatic realm of their music, crafting an opus that blurs the lines between reality and fantasy. It's a journey that will make your heart race, your spirit soar, and your soul resonate with the echoes of the sublime.
Stream the album or buy it at your local retailer
Ritual Music Video

Bleed Out Music Video

The Bleed Out 2024 Tour
The delectable Ritual is one of the kinkiest songs we have ever written and is fully inspired by From Dusk Till Dawn. An iconic movie by Quentin Tarantino about a seemingly normal road trip, turning into a vampire slayer party. "It's a fun track about seduction," Sharon explains. "It's about the lady taking power in a male dominated world and taking her own initiative."
Watch Now!
Bleed Out - the single, is based on the story of a woman in Iran who was murdered because she refused to wear a hijab - Mahsa Amini. We explore the wider theme of shedding light on individuals oppressed by regimes that wield power to suppress their citizens and dismantle societies in the process. By raising awareness around social issues such as the plight of those oppressed by oppressive regimes, we aim to shed light on the inherent strength and resilience of individuals who stand up against injustice.
Time to go on tour with us! After quite some time, Within Temptation is out on the road again with our new 2024 "Bleed Out" Tour.
Book your ticket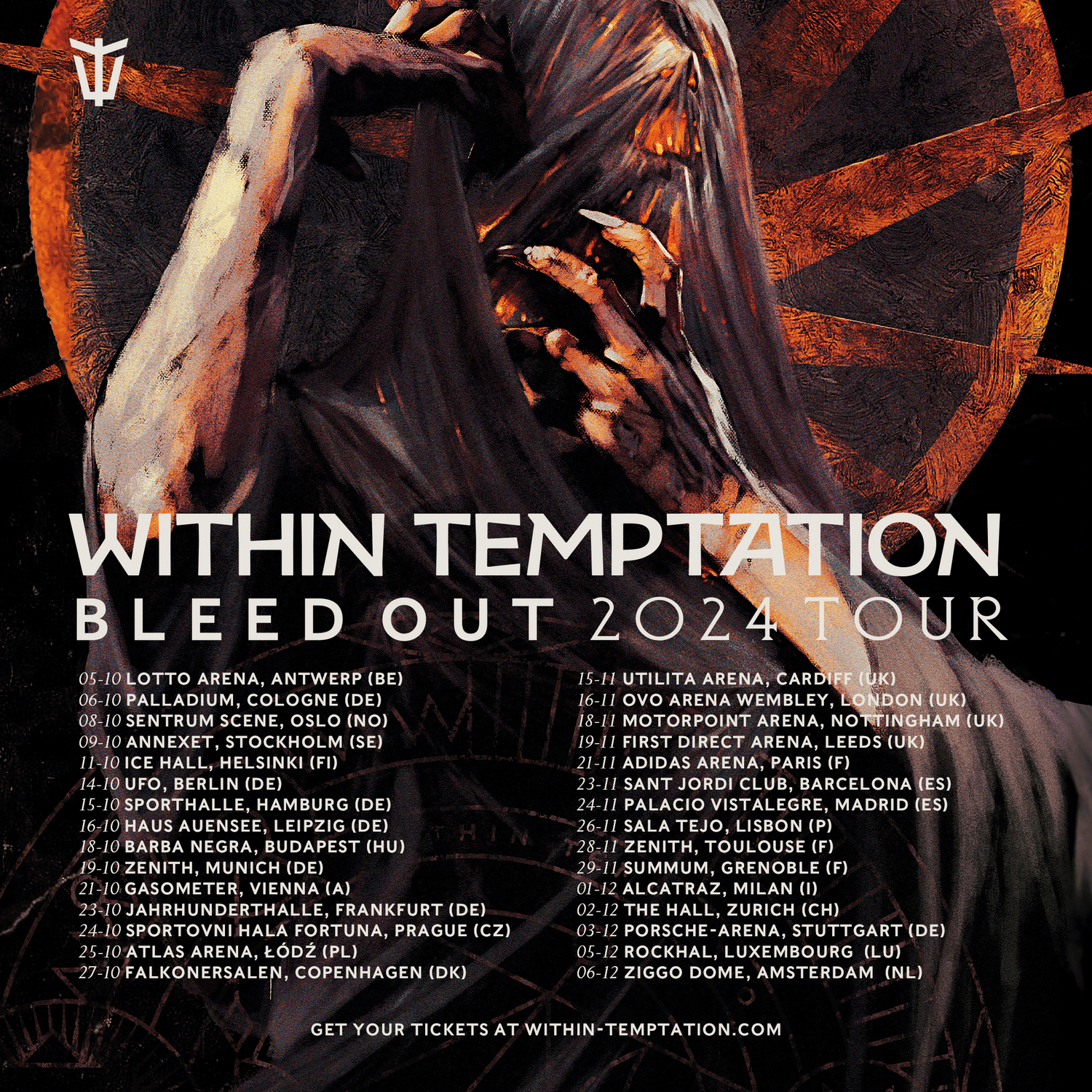 join us on the Bleed Out Tour!
The 'Bleed Out 2024 Tour'
Our EU/UK 'Bleed Out 2024 Tour' will kick off in October 2024.
Bleed Out 2024 Tour:
Sat, October 5                    Belgium, Antwerp, Lotto Arena
Sun, October 6                   Germany, Cologne, Palladium
Tue, October 8                   Norway, Oslo, Sentrum Scene
Wed, October 9                  Sweden, Stockholm, Annexet
Fri, October 11                  Finland, Helsinki, Ice Hall
Mon, October 14                Germany, Berlin, UFO
Tue, October 15                 Germany, Hamburg, Sporthalle
Wed, October 16                Germany, Leipzig, Haus Auensee
Fri, October 18                  Hungary, Budapest, Barba Negra
Sat, October 19                 Germany, Munich, Zenith
Mon, October 21                Austria, Vienna, Gasometer
Wed, October 23                Germany, Frankfurt, Jahrhunderthalle
Thu, October 24                 Czech, Prague, Sportovni Hala Fortuna
Fri, October 25                  Poland, Łódź, Atlas Arena
Sun, October 27                Denmark, Copenhagen, Falkonersalen
Fri, November 15               UK, Cardiff, Utilita Arena
Sat, November 16              UK, London, Wembley Arena
Mon, November 18             UK, Nottingham, Motorpoint Arena
Tue, November 19              UK, Leeds, First Direct Arena
Thu, November 21              France, Paris, Adidas Arena
Sat, November 23               Spain, Barcelona, Palau Sant Jordi
Sun, November 24              Spain, Madrid, Palacio Vistalegre
Tue, November 26              Portugal, Lisbon, Altice Arena – Sala Tejo
Thu, November 28              France, Toulouse, Zenith
Fri, November 29                France, Grenoble, Summum
Sun, December 1                Italy, Milan, Alcatraz
Mon, December 2               Switzerland, Zurich, The Hall
Tue, December 3                Germany, Stuttgart, Porsche-Arena
Thu, December 5                Luxembourg, Luxembourg, Rockhal
Fri, December 6                 Netherlands, Amsterdam, Ziggo Dome
VIP ticket packages are available to offer fans the chance an unforgettable experience, including meet-and-greets and exclusive merchandise. For tickets, VIP-packages, and more information, visit our merch store.
Will we see you at the 'Bleed Out 2024 Tour'?
Get Tickets